Sabtu, 08 Desember 2012
0 komentar
Beauty Pageant
>
Miss Universe
>
* Road to
Miss Universe 2012 (Contestants List)
---
Checkout more about 2012 MU Pageant >>> ***
Miss Universe 2012 - Coverage
***
---
MISS UNIVERSE 2012 CONTESTANTS:
OLIVIA CULPO

USA
AGE : 20

HEIGHT: 1.66 m (5 ft 5 1⁄2 in)

HOMETOWN: Cranston, Rhode Island

BIO

Olivia Culpo grew up in Cranston, Rhode Island as the middle child of five. With two avid musicians as parents, her and her siblings each studied different instruments throughout their childhood, Olivia's choice instrument being the cello. Her other interests include movies, museums, concerts, and making people laugh. One day, Olivia hopes to land a career in either film or television.

IN HER OWN WORDS

Everyone is exactly as they should be on the outside and it is your inner contentment, good spirits, grace and openness to others that make you truly beautiful.

FUN FACTS

Olivia has had the honor of playing cello alongside Yo-Yo-Ma.

Olivia's role model is Audrey Hepburn because of her generosity, intelligence, and grace.

Since winning the title of Miss USA, Olivia has kept every plane ticket from her travels.
| | | |
| --- | --- | --- |
| Portraits - Fadil Berisha Fashion Photography | Portraits - Swimsuit | Preliminary Competition - Swimsuit |
| Preliminary Competition - National Costome | Portraits - Evening Gown | Preliminary Competition - Evening Gown |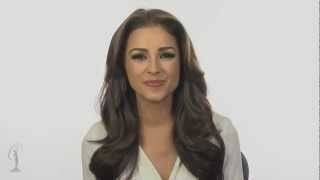 TERIMA KASIH ATAS KUNJUNGAN SAUDARA
Judul:
2012 Miss Universe USA - OLIVIA CULPO
Ditulis oleh
Ian Barr
Rating Blog
5
dari 5
Semoga artikel ini bermanfaat bagi saudara. Jika ingin mengutip, baik itu sebagian atau keseluruhan dari isi artikel ini harap menyertakan link dofollow ke http://sexiestcontest.blogspot.com/2012/12/2012-miss-universe-usa-olivia-culpo.html. Terima kasih sudah singgah membaca artikel ini.