Kamis, 06 Februari 2014
0 komentar
---
>
Beauty Pageant
>
Miss Universe
&
Miss World
&
Miss International
&
Miss Earth
*
Road to Miss Universe 2014
*
Road to Miss World 2014
*
Road to Miss International 2014
*
Road to Miss Earth 2014
---
* Miss Earth 2013 -
Alyz Henrich (Final Results)
* Miss Earth 2013 -
Road to Miss Earth 2013 (Contestants)
* Miss Earth 2012 -
Coverage of Miss Earth 2012
* Miss Earth 2012 -
Tereza Fajksová (Winners & Final Results)
* Miss Earth 2012 -
Tereza Fajksová ALBUM
* Miss Earth 2012 -
Tereza Fajksová Crowning Moment
---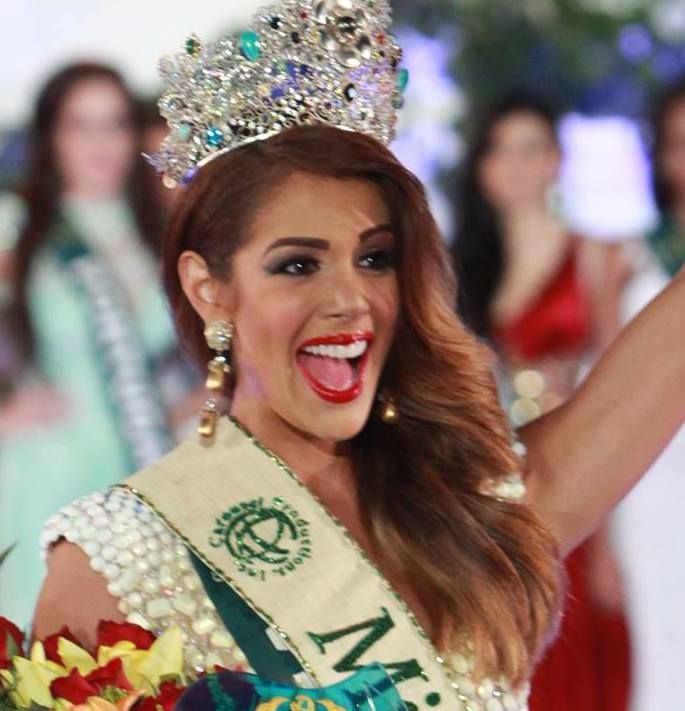 Miss Earth 2013, Alyz Henrich from Venezuela (credit photo from FB)
Miss Earth 2014 the 14th edition of the Miss Earth pageant will be held on December 2014. Miss Earth 2013, Alyz Henrich from Venezuela will crown her successor at the end of the event.
Expected Miss Earth 2014 Contestants
Country/Territory
Contestants
Note / Ref.
Miss Earth Argentina
Carolina Yanuzzi
* She was crown Miss Argentina 2013
* Previously
- Miss Banana 2013 (winner)
- Miss Banana 2013 (Miss Photogenic)
Miss Earth Belgium

Emily Vanhoutte
* Emily Vanhoutte FB
* Miss Exclusive 2014, Emily Vanhoutte is Miss Earth Belgium 2014

Miss Earth Czech Rep.
* March 29, 2014

Miss Earth Dominican Rep.
Cheryl Ortega
* She was crown as Miss Earth Dominican 2013 in Reina Nacional Belleza Republica Dominicana 2013 pageant
* Previously - Miss Duarte Mundo 2013
Miss Earth El Salvador

Georgina Gonzalez
* She was crown as Miss Earth El Salvador 2013
Miss Earth France

Laëtizia Giovannelli
* She was Miss France 2014 second runner up
* Previously - Miss Provence
Miss Earth Gabon
Marilyne Nfono
* She was crown as Miss Earth Gabon in the Miss Gabon 2014 pageant
Miss Earth India
* April 6, 2014
Miss Earth Israel
Catherine Kanaan
Miss Earth Kazakhstan
* May, 2014
Miss Earth Lebanon
Nawal Ayoub
Miss Earth New Zealand
June 28, 2014
Miss Earth Peru
Brunella Fossa
* Previously
- Miss Teen World Perú 2009
- Miss Teen de las Américas 2009
Miss Earth Philippines
* May, 2014
Miss Earth Poland
* February 15, 2014
Miss Earth Russia

Anastasia Trusova
* She was crowned 2013 Russian Beauty pageant

Miss Earth Slovak Republic
* Miss Universe Slovenskej Republiky 2014 - Meet Top 12 Finalists (March 14, 2014)
Miss Earth Slovenia

Patricia Peklar
* She was selected as Miss Earth Slovenia 2014 at same event held in capital city of Slovenia - Ljubljana on August 29, 2013 where Nina Kos was also selected as Miss Earth Slovenia 2013.
Miss Earth Venezuela
Stephanie de Zorzi
* She was 2RU in Miss Venezuela 2012 pageant (or title as Miss Venezuela Earth 2013)
* Previously - Miss Aragua 2013
---
Upcoming national pageants
Czech Republic
India
Kyrgyzstan
New Zealand
Philippines
Poland
TERIMA KASIH ATAS KUNJUNGAN SAUDARA
Judul:
Road to Miss Earth 2014
Ditulis oleh
Ian Barr
Rating Blog
5
dari 5
Semoga artikel ini bermanfaat bagi saudara. Jika ingin mengutip, baik itu sebagian atau keseluruhan dari isi artikel ini harap menyertakan link dofollow ke http://sexiestcontest.blogspot.com/2014/02/road-to-miss-earth-2014.html. Terima kasih sudah singgah membaca artikel ini.